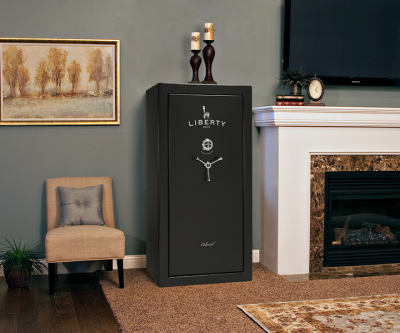 Liberty's employs its exclusive 2-piece 11 gauge body, making it much stronger compared to hand welds used by most other brands. Up to 14 active 1" locking bolts and now on all four sides of the door, leaving no compromise in security. These granite gun safes are available in three popular sizes, 23, 30 and 50 size models now come standard with Liberty's popular ECONOMY DOOR PANEL for more storage options. 23 & 30 size models available with classy marble gloss colors - each designed to fit home decors with long lasting durability. 50 size models available in textured granite finish only. Lifetime Warranty
Certified for 60 minutes @ 1200° F

Better Fire Protection with certified 83,000 BTU fire rating

Advanced fire & heat protection (3 layers of 5/8" fireboard in the ceiling, doorjambs and door, with another 2 layers in the walls). 


Palusol™ Heat Activated door seal expands up to 7 times its size and sealing door edge to help keep out smoke and heat
Awarded UL™ Residential Security Container (RSC) burglary classification

     11 guage 2-piece roll form body. Toughest safe on the market!

Triple case hardened steel plates protect lock from drill attack. Even UL couldn't drill through them.

These granite gun safes feature a defensive barrier of up to 14-1" diameter bolts fortify the door.

Cam-drive bolt locking mechanism with slip clutch SURETIGHT 3-pt handle thwarts break-in


UL Listed S&G™ Group II lock with keylocking dial guards against lock manipulation
     [7 Upgraded Amenities]
The Liberty Colonial Safe features an economy door panel now standard for more door storage options, pistol holders and zip pockets (large zip pocket at the bottom is not a COOL POCKET).

Marble color options available on 23 & 30 size models! The larger CO50 comes in only granite textured.

3-spoke SURETIGHT handle plated in black chrome, brass or chrome (depending upon selected exterior color)

Upholstered 3-in-1 Flex interior in gray or camel fabric or choose the Liberty Colonial Safe 50 Extreme with its unique 6-in-1 flex interior, holding up to 60 long guns. 


Available in 23, 30 & 50 size models, holding up to 25, 30 and 64 (CO50) or 60 (Extreme) long guns respectively. The standard CO50 has double collector racks-32 guns on each side while the CO50 Extreme has 3 collector racks holding 20 long guns each.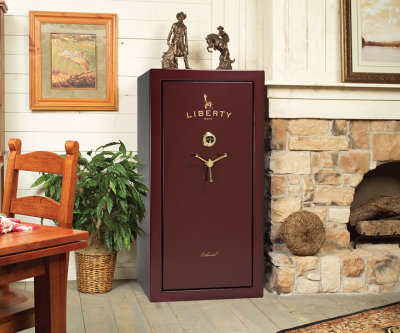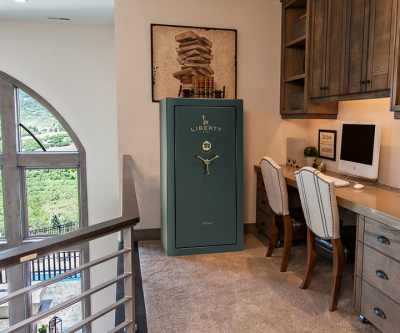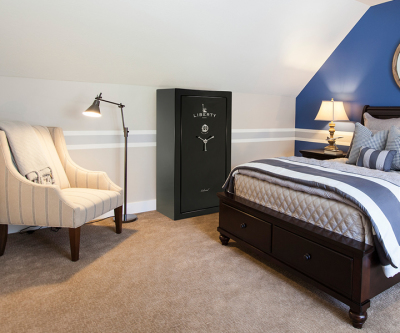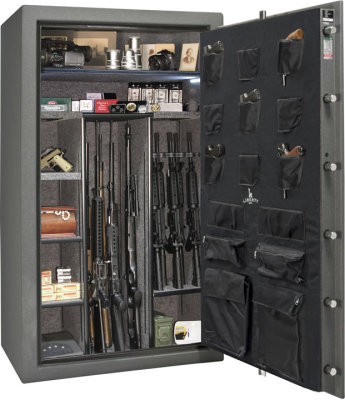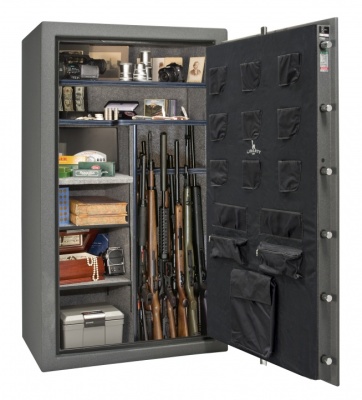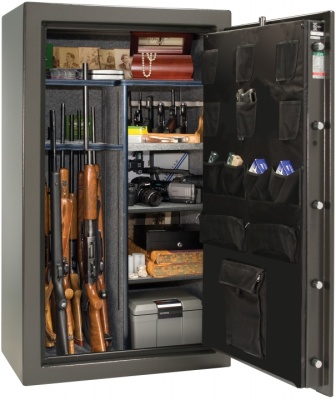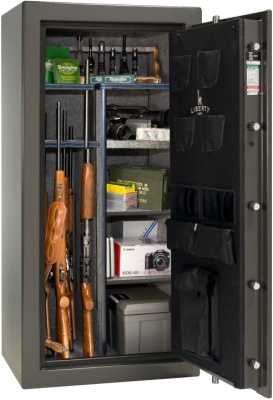 Specifications
Fire Rating-60 Minutes
Lock-Mechanical With Key Locking Dial
Interior Type-3in1 Flex
Exterior Dimension(HxWx D)-60.5" x 36" x 25"
Weight-685lbs
Country Of Origin-U.S.A
Warranty-Lifetime

Home Delivery Available

Textured-$1429.99

Marble Gloss-$1509.99
Specifications
Fire Rating-60 Minutes
Lock-Mechanical With Key Locking Dial
Interior Type-3in1 Flex
Exterior Dimension(HxWx D)-60.5" x 30" x 25"
Weight-570lbs
Country Of Origin-U.S.A

Warranty-Lifetime

Textured-$1359.99

Marble Gloss-$1439.99

Specifications
Fire Rating-60 Minutes
Lock-Mechanical With Key Locking Dial
Interior Type-3in1 Flex
Exterior Dimension(HxWx D)-72.5" x 42" x 30.5"​
Weight-990lbs
Country Of Origin-U.S.A

Warranty-Lifetime

Home Delivery Available

Price-$1899.99

Specifications
Fire Rating-60 Minutes
Lock-Mechanical With Key Locking Dial
Interior Type-6in1 Flex
Exterior Dimension(HxWx D)-72.5" x 42" x 30.5"​
Weight-1010lbs
Country Of Origin-U.S.A
Warranty-Lifetime

Home Delivery Available