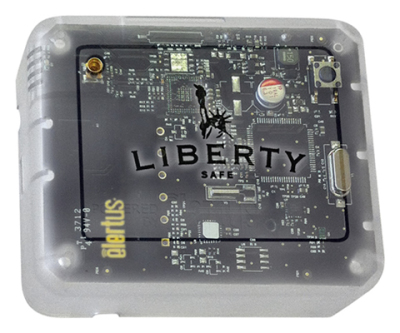 Safelert
-
SAFELERT (PN #13558) is the newest innovation in smart devices to help monitor your safe and works on any brand. This compact, battery-powered monitoring device is easily installed inside your safe using your wi-fi system. When your safe's conditions change (movement, rise in temperature, humidity level, door opening, etc.), SAFELERT detects and sends alerts (via texts or emails) directly to you.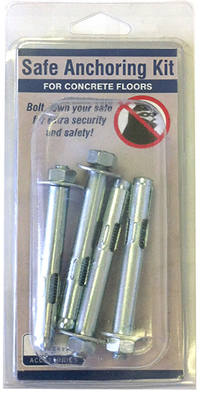 Anchoring Kit
-
Secure safe to the floor. Utilizes the pre-drilled holes in the floor of your Liberty Safe. Kits for concrete and wood floors are available.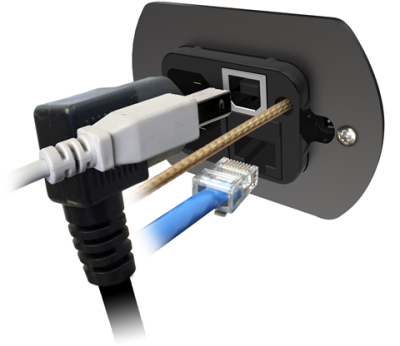 Electrical Outlet Kit
-
If your Liberty Safe was built after April, 2007 (and has one of the three templates shown in Figure 1 below), you can upgrade your safe with Liberty's new Safe Power Outlet Kit. Those safes already installed with the previous version outlet kit (Franklins, FATBOYS, Lincolns, Presidentials and Nationals) can be retrofitted with this new outlet kit.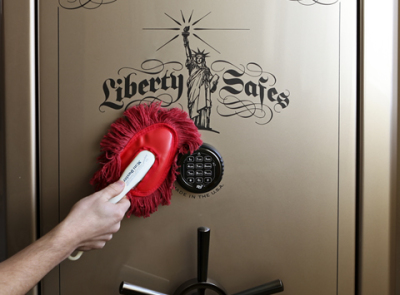 Liberty Safe Duster
-
The Liberty Safe Duster for safes is designed to easily remove dust without scratching the finish on the safe.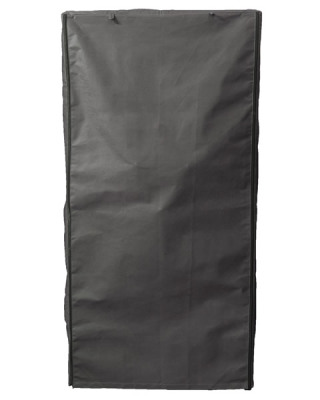 Liberty Safe Cover-Liberty's Safe Covers protect your safe, while keeping it concealed from sight. Made with a breathable material and dual zippers for quick and easy access.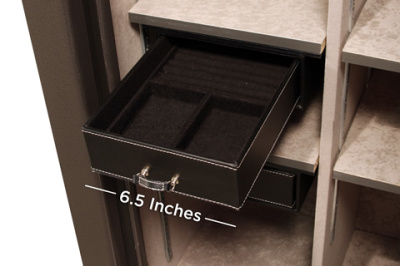 Gun Safe Drawer
-
Liberty Safe has velvet lined jewelry drawer safes that can be installed under the top or side adjustable shelves of safes shown below. If you want to fit your jewelry gun safe drawer on the left side of a side shelf, the maximum size fits the model size shown in parenthesis. NOTE: Every new Lincoln, Presidential and National Security safe includes one jewelry drawer installed in each safe.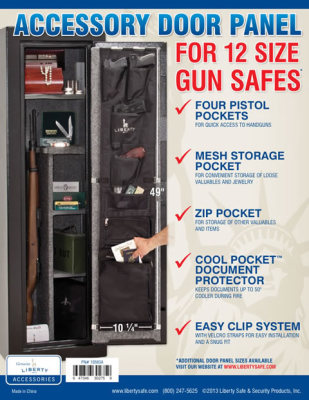 Door Panel System- Attach this attractive holster system to the inside of the door panel to expand storage capacity and maximize shelf space. Liberty's gun safe door organizer works with existing fabric covered door panels. Mounts on Door Panel with included mounting brackets. To view panel, click on the safe size.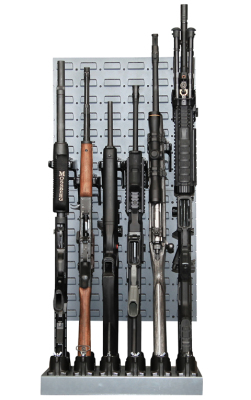 MilSpec Kit
-
The MilSpec Kit from Liberty Safe has been designed to provide you with easy access and adaptable, tactical gun storage of your firearms. Built to Military Standards, the MilSpec kit can be adjusted to fit any firearms and is ideal for Specialized Rifles, including Modern Sporting Rifles. (firearms not included)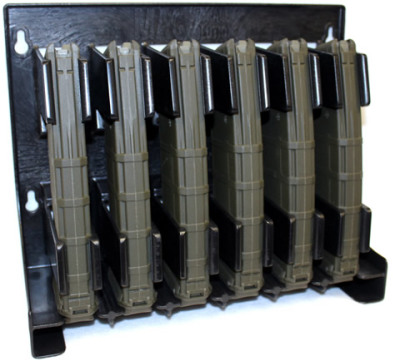 Gun Safe Mag Holder-The AR-15 Magazine Holder from Liberty Safe is the perfect solution for storing your AR-15 Magazines. The gun safe Mag Holder is designed to provide you quick access to your Mags while keeping them clean and organized. (mags not included)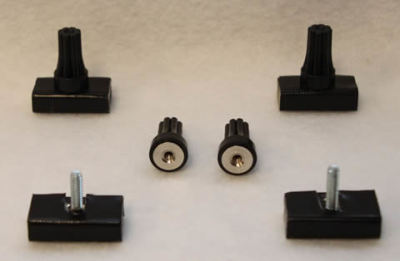 Gun Magazine Holder Kit
-
The AR 15 Mag Holder Magnet Kit allows you to attach your AR-15 Mag Holder to any metal surface, including the outside of a safe. These high-strength magnets are wrapped with protective material to ensure the finish of your safe is not effected. The gun magazine holder kit easily holds 6 loaded AR-15 magazines. (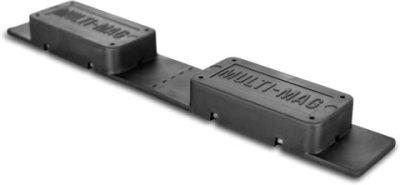 Gun Safe Magazine Storage
-
Multi Mag is a 2 pack gun safe magazine storage unit designed to hold metal magazines and handguns. Rubber coated to help protect items from scratching.
Gun Safe Magazine Storage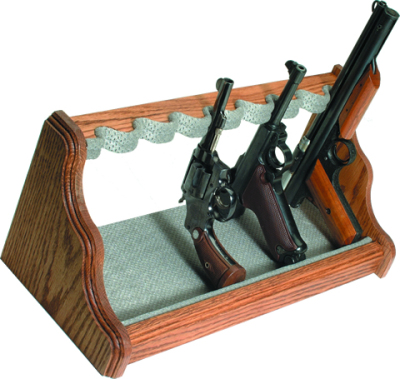 Oak Pistol Rack
-
Convenient gun storage rack. Oak pistol rack protects stock and barrel finishes from damage. Pistol rack for safe available in 8-gun capacity with beige or silver pad. (firearms not included)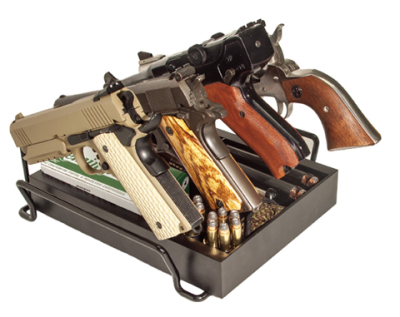 Pistol Storage Rack
-
Our pistol storage rack holds four pistols and features a slide out drawer.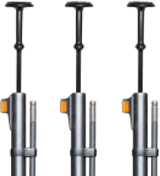 Rifle Rods
-
Update your gun storage solutions using Rifle Rods for up to 50% over traditional gun racks! Gun safe Rifle Rods are 16 inches LONG and allow varying heights of guns to be organized. Works great with scopes, double barrels, even shorter AR guns. The starter kit comes complete with loop fabric to stick rods to ceiling of shelf. Add-on kits also available as your long gun collection grows. (rifles not included)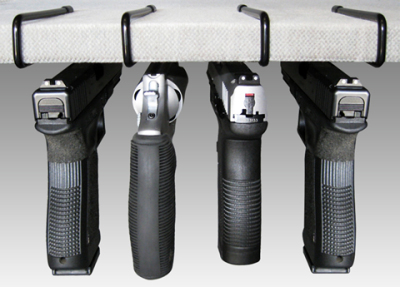 Handgun Hangers
-
Handgun Hangers are an innovative gun storage solution for your handguns to utilize the least used space in your safe-under the shelves. Vinyl coated finish protects barrels. Best of all, now you will have quick access to your handguns and save space in an efficient way. (firearms not included)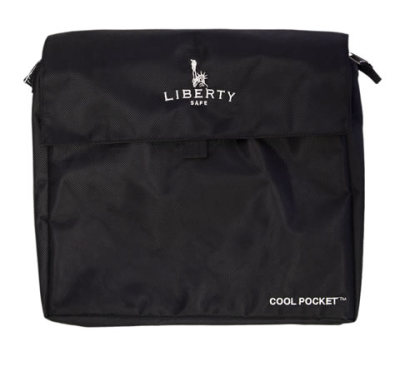 Liberty Cool Pocket
-
Liberty's COOL POCKET is another great way to protect your valuables and documents from the devastating effects of fire, heat and smoke. This convenient "ready to go" fire resistant briefcase keeps important valuables 50 degrees cooler (during a fire) when kept inside a fire rated safe. This is accomplished through a proprietary heat shield material made up of 70% fabric and 30% foil, each combined to slow the transfer of heat.  Four expandable one-inch compartments makes organizing documents easier. Protective Velcro flap and double pull zipper allow for quick access to documents.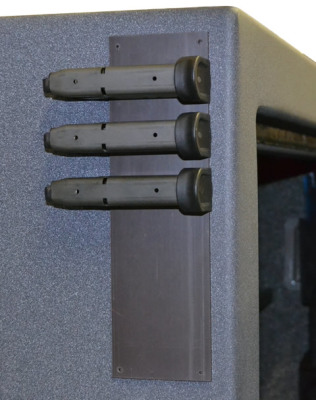 Gun Safe MagMount
-
Organize magazines anywhere you have extra space in your gun safe - on the door, wall or under the shelf with the gun safe MagMount. (mags not included)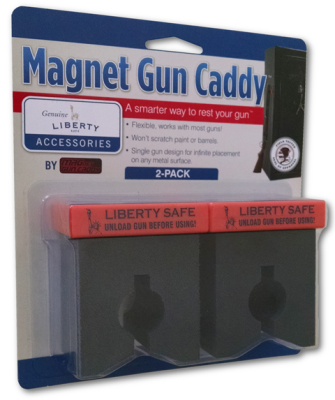 Magnet Gun Caddy
-
Have you ever leaned your gun against a surface to free up your hands only to have it fall over? Now there is Magnet Gun Caddy. These magnetic gun safe accessories are a smarter way to rest your gun. The Magnet Gun Caddy attaches magnetically to the side of your safe and holds the gun barrel which helps prevent the gun from tipping over.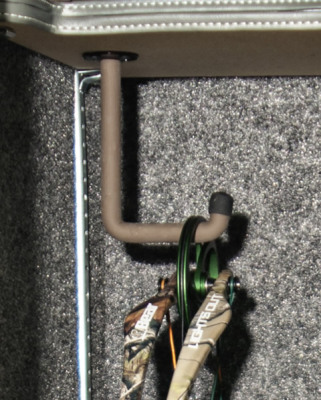 Bow Hanger
-
The Liberty Safe Bow Hanger has been designed as a secure archery bow hanger storage option within your safe. The bow hanger can be easily installed in any safe with wood shelves and will hold up to 25 lbs. (modern bows typically weight less than 7 lbs.). This gun safe bow hanger is coated with a durable rubber that protects your bow and eliminates slipping. Four screws are included for simple installation. (bow not included)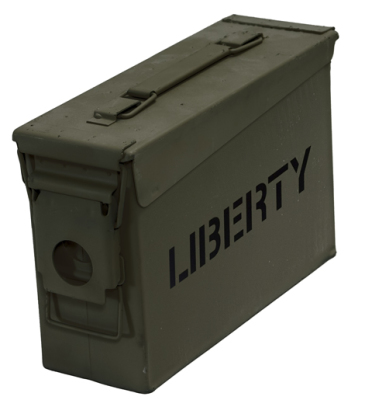 Ammo Lock Box
-
Store your ammo and other supplies in Liberty's new Ammo Canisters. Ammo lock box protects ammo and other valuables in a secure, water tight container. The metal ammo cans are in NEW condition. They are constructed out of heavy duty steel, have an air and water-tight rubber gasket, and are built to US Military Specs. OD color, locking latch, and a fold-flat top handle. "LIBERTY" lettering painted in black on one side.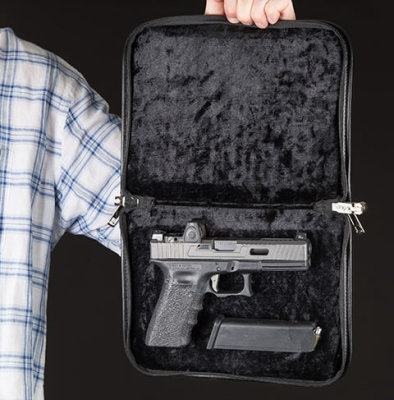 Gun Case
-
Transport your handguns securly and in style with Liberty Safe's new magnetic sealing handgun cases. The integrated locking zipper comes with two keys included and is compliant in all 50 states for travel and storage. Check your local and state concealed carry laws for restrictions and guidelines regarding transporation of firearms.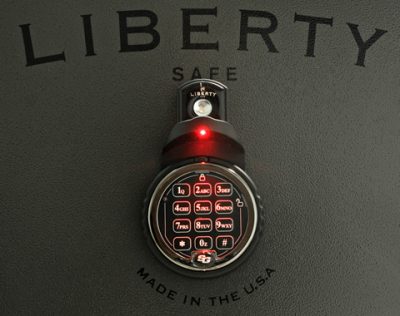 Dial Light
-
This liberty safe dial light allows you to quickly and clearly see your safe's controls while giving you discreet access - all without impairing your night vision.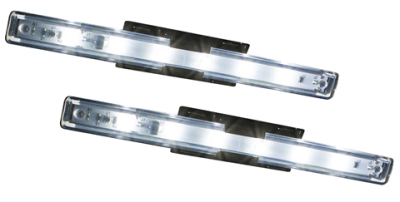 Brightview Safe Light Kit
-
Liberty's Brightview Safe Light Kit turns on when there is motion and turns off after five minutes (adjustable). The detachable corner mount allows the wand to easily slide in and out for adjustable lighting and changing of the batteries.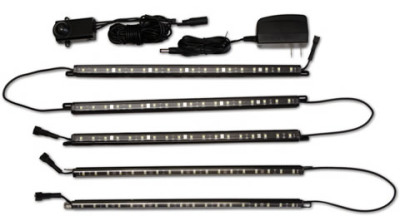 LED Safe Lights
-
Brighten up your safe's interior and valuables with Liberty's new Clearview LED Wand Light Kit. Available in 5 or 6 wand lights, each includes auto on/off motion sensor for convenience. Easy to install with self adhesive backing and easy connection snaps. LED safe lights are installed on both the hinge and open sides of the safe. The 5-wand kit fits 60" tall models while the 6-wand kit fits 66" tall models and higher. Standard on Lincoln, Presidential and National Security safes
PLEASE NOTE: You cannot connect additional wand lights to the Clearview Light kits. The transformer is designed for 5- or 6-Wand Lights maximum.

Tac Flashlight
-
Liberty's Tactical J5 V1-Pro Flashlight is one of the best-value flashlights in the industry. With its ultra-bright LED light and ability to run for hours of just a single AA Battery.

Dry Rod Dehumidifier
-
Standard feature in all Lincoln safes. Dehumidifiers heat to a surface temperature of around 100-120 degrees F. The heat creates a natural convection that slowly circulates warm, dry air throughout an enclosure on a 24 hour basis. This increases the temperature of the air inside to several degrees above the ambient outside temperature. Expansion of the heated air forces the moist air outside through the small cracks on safe doors leaving the dry air inside. It is best utilized when mounting horizontally at the bottom of the safe to work effectively. The safe dehumidifier rod can be mounted against a wall as well. Lowering the humidity is a slow process. If you do not see the reduction of humidity after a couple of weeks then you may want to consider a longer unit or our PEET dehumidifier.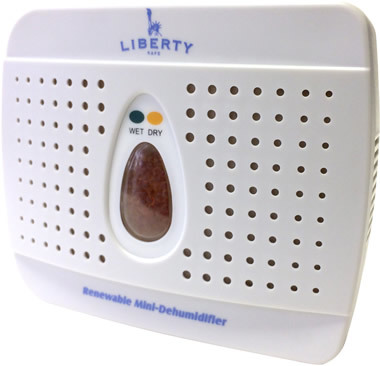 Eva Dehumidifier
-
Protect your guns, ammo and other valuables in your safe from the damaging effects of moisture with the EVA-DRY dehumidifier. This 100% renewable, 100% wireless dehumidifier requires no power to operate. It's filled with Water Glass Technology crystals that have a much higher absorption rate than traditional, soluble humidity absorbing products. Best of all it is eco-friendly, non-toxic and child and pet safe.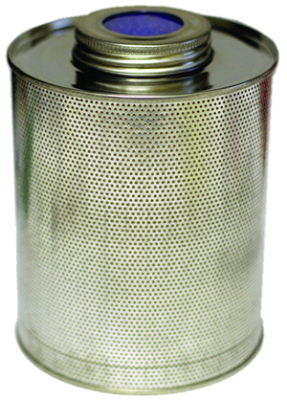 Gun Safe Desiccant
-
This reusable gun safe desiccant automatically absorbs humidity inside the safe. Protects valuables, papers and metal products from corrosion, especially firearms. Simply heat in oven to reactivate.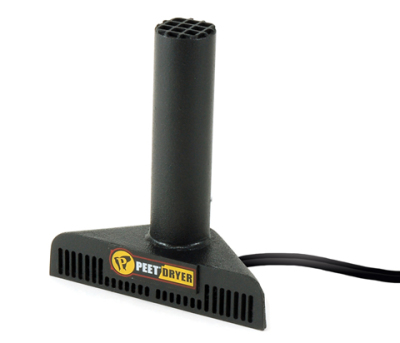 Peet Safe Dryer
-
The PEET DEHUMIDIFIER is standard feature in all Presidential and National safes. PEET Safe Dryer dries unwanted moisture inside the safe by gently raising the temperature inside the safe by circulating warm air through the natural convection process of rising heat and pushing down cold moist air to go through the unit. This process lowers the relative humidity inside the safe helping to keep valuables dry and increase longevity of valuables. Plugs into the electrical outlet kit (optional on some safes) or 110 outlet.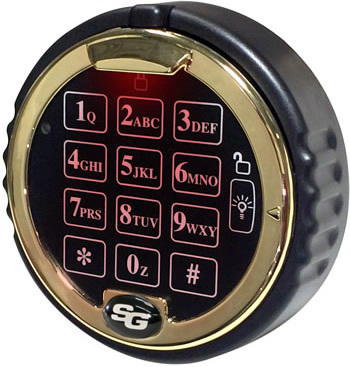 D-Drive Electronic Lock
-
New Direct-Drive EMP Electronic lock from S&G offers the best of both worlds--the reliability of a mechanical lock with the convenience of an electronic. Red LED light allows for improved night vision. Runs on one 9-volt battery (included). Up to 8 users can be programmed into the lock. With more than one million possible combinations, you can change the combinations at anytime. Once a 6-digit combination is entered, press the # key and you'll hear a click. Turn the outer ring to the right to the 2 o'clock position and the lock is open. Turn the handle and open the safe door. It's quick, it's easy, it's S&G! electronic locks!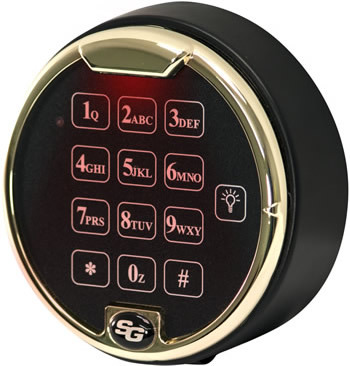 Liberty Safe Electronic Lock
-
New EMP resistant* S&G Low Profile Electronic lock offers quick access and reliability. 8 users can type in their 6-digit code and press the # key. Once you hear the click, you can turn the handle and open the safe door. Red LED light on the gun safe electronic lock allows for improved night vision to more than one million possible combinations. Plus, you can change the combinations at anytime without a locksmith. 9-volt battery (included) is accessed from the bottom of the lock for easy change out. The all new Titan Low Profile EMP lock--it's quick, it's easy, it's S&G!
Liberty Safe Electronic Lock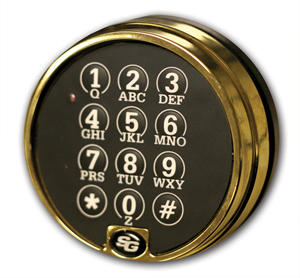 S&G Electronic Safe Lock
-
The dual battery electronic lock from S&G offers quick access, durable reliability and longer battery life. Two 9-volt batteries are included. Type in the 6-digit code and press the # key to unlock the safe's mechanism. Once you hear the click, you can turn the handle and open the safe door. Over one million combinations make this a perfect lock for security. Plus, you can change the 8 possible user combinations at anytime without a locksmith. It's quick, it's easy, it's S&G!
As of October 2014, all S&G Dual Battery electronic locks are classified as EMP resistant locks.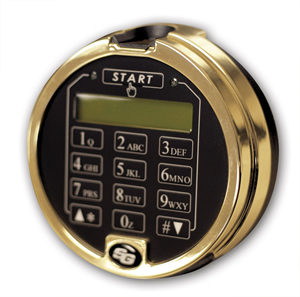 Biometric Fingerprint Lock
-
Full-featured (Type I) biometric fingerprint lock is perfect for those who might be worried about forgetting their combination. Up to 8 fingerprints can be stored on the gun safe fingerprint lock. Best of all, user capability allows for dual access by using either a fingerprint to open safe or enter a 6-digit code followed by the # key. Reliable, fast and convenient. That's S&G. All locks are backed by a 5 year, in-home parts and labor warranty for the best in security and peace of mind.
Biometric Fingerprint Lock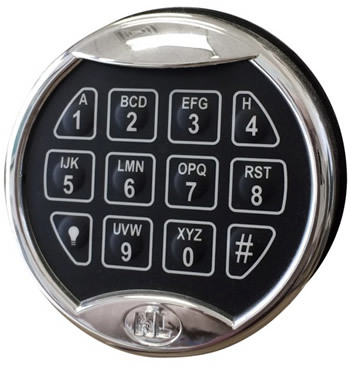 NL Electronic Lock
-
The all new NL electronic lock by LpLOCKS is a quick access, one combination 6-digit code designed for the Centurion or Tactical 24 safes only. Red LED light makes for easier night vision and quick access. Enter the 6-digit code (no need to press the # key like on S&G locks) and you're in. 9-volt battery (included) is accessed from the bottom of the LaGard safe lock through a slide cover.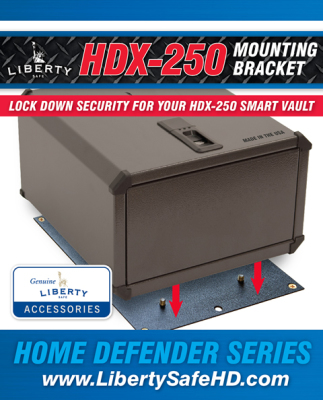 HDX 250/350 Mounting Bracket
-
Mounting your vault is the most secure way to protect against theft or unauthorized access. The HDX Mounting Bracket makes is easy to securely mount your handgun vault to the floor. Compatible models include: HD-200, HD-300, HDX-225, CDX-250, HDX-250, JDX-250 and JDX-350 vaults. Vault removal is also quick and simple with included wing nuts. Mounting bracket will not work with the HDX-150 or other smaller units. Mounting hardware included, some tools required.
HDX 250/350 Mounting Bracket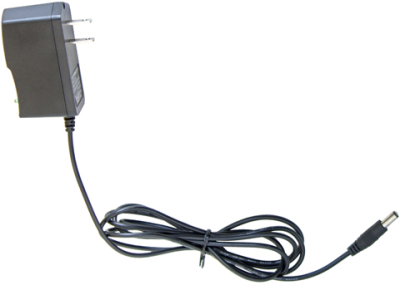 HDX AC Adapter
-
Make your HDX vault even faster with Liberty's AC adapter. The AC adapter for HDX models keeps your vault "awake" and ready to go! With the AC adapter plugged into the unit, access to your vault is under 1-second. Without the HDX AC adapter, HDX vaults require an additional second to "wakeup" (less than 2-seconds total). HDX-150 vaults DO NOT come with this AC adapter, while HDX-250 vault includes the AC adapter.